If you have been playing minecraft game for some time you would notice that the game has been found wanting especially in the aspect of looking for enough inventory space. This is a problem which everyone playing the game of minecraft does experience from time to time. With Backpacks Mod 1.17.1/1.16.5/1.15.2, you can easily say that such problem has been defeated as it allows you the freedom to have backpacks not just crafted but also carried around. This mod has been helpful to players of minecraft 1.10.2 Mods as well as other versions.
As mentioned above, you have the ability to craft backpacks. With such backpacks being carried around by players, you can now have more inventories. With the introduction of such a mod, it can be said that the art of inventory management in the game of minecraft just got better.
One major thing that you will love about this mod is that it can give you two options of storing the backpacks that you have crafted. These are either you have them stored in your inventory or you can choose to carry them around pacing one in the slot for your chest amour. What a great way to manage inventory properly.
Types of Backpacks
At this point, it is very important to state that there are two types of Backpacks. These are:
Regular Backpacks.
Big Backpacks.
For the regular backpacks, you may not be able to do much as compared to the big ones. This is because while the regular backpacks allows you the freedom to store up to 27 items, the big ones allows you to store up to 57 items. This can also be interpreted as more freedom for you especially if you are going to be doing an upgrade to minecraft 1.10.
Incredible additions of Backpacks Mod
Some of the additions of this mod include:
There is the introduction of a fedora that looks classy.
You have the chance to appear just like Harrison Jones, the famous adventurer. This is made possible through its matching hat.
Traversing of dense jungles just got easier through its machete.
Melon juice has been added to the game which is delicious.
One thing that shouldn't be left out not of all these being mentioned above is the fact that this mod has been very much appreciated because of the fact that it makes minecraft players to more flexible than they would have been.
Backpack Mod Showcase:
Requirements:
1.5.2: Forge 7.8.0.686 or greater.
1.6.2: Forge 9.10.0.776 or greater.
1.7.2: Forge 10.12.2.1147 or greater.
1.7.10: Forge 10.13.0.1152 or greater.
How to craft the Backpacks?
Normal backpacks:
You craft a backpack like a chest but with leather instead of wood.
For a big backpack use tanned leather instead of normal leather.Backpacks have 27 slots (chest size)
Big backpacks have 54 slots (double chest size)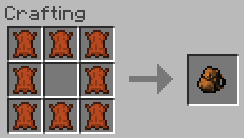 Colored backpacks:

Ender backpack (was Magic backpack before):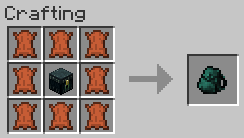 Workbench backpack: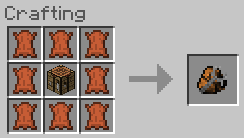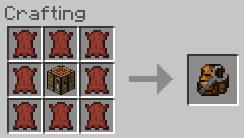 Recolor backpacks: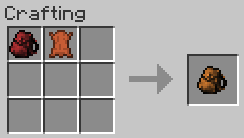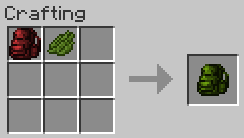 Upgrading backpacks:

Bound leather: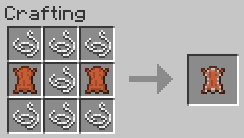 Tanned leather:

How to Install Backpacks Mod
Download and install Minecraft Forge API.
Download Backpacks Mod.
Open the Mods folder for that go in Start and R

un

: %appdata%\.minecraft/mods.
Drag the files to your mods folder (once downloaded Minecraft Forge and test it should auto create this folder).
Open your Minecraft launcher and make sure to use the profile the forge api created.
Note: If you are still having to download or install the file, do not hesitate to ask for help in the comments below, we will respond in less than 24 hours.
Download Backpacks Mod for Minecraft 1.17.1/1.16.5/1.15.2
"All Mods on this site are posted on third party sites, or were not hosted by us, we keep the original download link created by the creator of mods, follow the download link below."
Official Links for Minecraft 1.12/1.10.2/1.11.2/1.9/1.8/1.7.10:
Download Backpacks
Credits: Eydamos